April 30, 2021
Landscape architecture graduate students earn Award of Merit from Prairie Gateway Chapter of American Society of Landscape Architects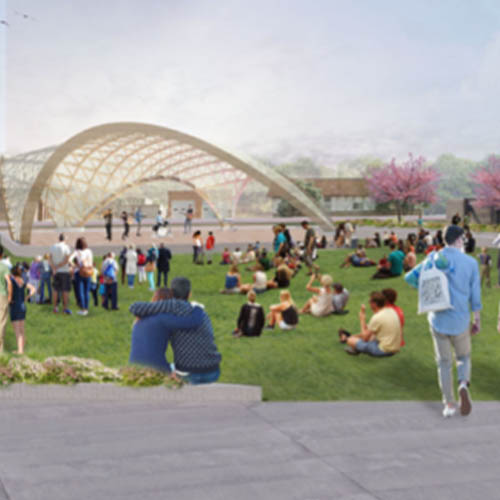 The Prairie Gateway Chapter of the American Society of Landscape Architects recognized three graduate students from Kansas State University's College of Architecture, Planning & Design, or APDesign, landscape architecture and regional & community planning department with the Award of Merit for their redevelopment proposal "Intersection: Marysville's Third Place."
The graduate students, Meredith Bryan, Cary, Illinois; Thomas Schneider, Sioux Falls, South Dakota; and Madison Wulfkuhle, Berryton, presented their plan to re-envision the Marysville historic Union Pacific Depot building and surrounding site as a regional attraction for visitors and a daily destination for local residents.
The students were part of the Site Research and Design Studio in fall 2019, led by associate professor Blake Belanger.
"Meredith, Thomas, and Madison worked together seamlessly from the first day of the project and were responsive to the aspirations of community members," Belanger said. "Their highly creative site plan appeals to the senses by providing a variety of different experiences for people of all ages."
The team celebrated the historic significance of the rail line and recognized that Marysville has long been a nexus of transportation including waterways, railroad, the Pony Express Trail, and now regional highways. The design establishes a range of distinctive civic spaces including a sequence of small plazas, a sculpture garden and an outdoor theater.
"The real promise of this proposal lies in the economic potential for reinforcing Marysville's place as a regional destination," Belanger said. "With accommodations for festivals, concerts, markets, and other gatherings large and small, the proposal gives local decision-makers a spark to continue the dialogue about the future of the community."
The studio included a collaboration with the department's Urban Design Seminar, led by assistant professor Susmita Rishi. The project was supported with funding from the city of Marysville, an EPA Small Community Technical Assistance Grant through the Kansas Department of Health and the Environment, and technical assistance from K-State's Technical Assistance to Brownfields.
The Prairie Gateway Chapter of the American Society of Landscape Architects represents membership from the states of Kansas and Missouri. Their purpose is to promote the profession of landscape architecture and advancement of the practice through advocacy, education, communication and fellowship.