April 29, 2021
Biology awards outstanding senior with Haymaker Award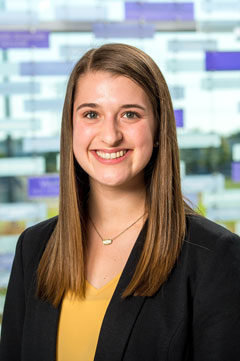 The faculty of the Division of Biology have awarded Maggie Anne Malmberg, senior in biology, Phillipsburg, with this year's H.H. Haymaker Award for Excellence. The Haymaker Award is the highest honor bestowed on a student at Kansas State University by the Division of Biology.
The award was named in honor of Herbert Henley Haymaker, a K-State alumnus, Bachelor of Science in agronomy graduate and faculty member from 1917-1963. The award is given annually to one of more than 100 eligible seniors majoring in biology, fisheries, wildlife, conservation, and environmental biology, or microbiology, who has both an extraordinary level of accomplishment as an undergraduate, and the promise to continue such quality performance in a biological sciences-related career. Nomination and selection criteria include grades, rigor of academic program, extracurricular activities, recommendations by faculty, and performance in an interview. This year, six of our finest seniors were nominated.
Since joining the Division of Biology in fall 2017, Malmberg has excelled in every aspect of academic and community life at K-State. One professor described her as a "stellar student" and "bright star." Malmberg's personal traits include responsibility, determination, humility, compassion and kindness. Malmberg has participated in research and done volunteer work on and off campus. She is serving as the director of alumni relations for Blue Key senior honorary and has been very active with the Cats' Cupboard.
Malmberg has served as a lead teaching assistant in Human Body I for three semesters. As a teaching assistant, Malmberg is known for the outstanding help she provides and for her consistently positive attitude. She is generous with her time and always willing to meet with students, to help them study and to provide feedback on assignments. She maintained the course website, developed animated study content to help students, and led weekly study sessions.
Malmberg has served as president, vice president of outreach and secretary of the Kansas State University Student Foundation, which raises money and provides scholarships to students in need. In this role, she aided in execution of K-State Proud, which raised more than $1.36 million to help more than 800 students continue their education.
Next year, Malmberg will attend medical school at the University of Kansas. The faculty of the Division of Biology are excited to see what the future will bring for Malmberg and they are confident that she will find success wherever she goes.
As an undergraduate, Haymaker was an accomplished athlete who played quarterback and fullback on K-State's football team. As a faculty member, Haymaker's specialty was botany, but he also taught courses in math, psychology, economics, and sociology. Although interested in research, Haymaker preferred to work with students, serving as the Sigma Nu fraternity advisor and president of the area district of the Boy Scouts of America. In addition to teaching, he coached K-State's freshman football team in the mid-1930s for six years — for the additional pay of $25 per month — and also coached the basketball team for a time. In 1961 he was selected as an outstanding teacher by the K-State graduate faculty through the Faculty Lectureship program.
Sources for the article include Board Minutes, Sept. 14, 1935; K-State Collegian, Nov. 18, 1961; The K-Stater, April 1951 and June 1963; Manhattan Mercury, Oct. 9, 1964; Royal Purple, 1970, p. 56.