February 23, 2021
Weed science research group brings home awards from national meeting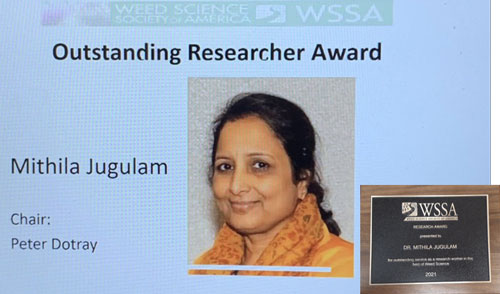 The Weed Science Society of America had its annual meeting in a virtual format from Feb. 15-19. Each year at these meetings the society honors individuals for their outstanding contributions to the field of weed science.
Mithila Jugulam, professor of weed physiology in the agronomy department, was awarded the Outstanding Research Award. This award is for researchers who have demonstrated originality and creativity and whose work has had an impact in the field of weed science. The award recognizes outstanding contributions to both applied and basic weed science research. This award is sponsored by Corteva Agriscience.
Jugulam received her Bachelor of Science and Master of Science degrees in agriculture in India. She worked as a scientist with Indian Council of Agricultural Research before obtaining her doctorate and postdoctoral training at the University of Guelph, Canada. She joined K-State in 2011.
Jugulam's research program is internationally recognized for increasing our understanding of the evolution and fundamental mechanisms of herbicide resistance in weeds. Her research also focuses on the effect of climate change factors on herbicide efficacy, consequently weed management. She is an award-winning teacher with the responsibility to teach graduate and undergraduate courses related to herbicide physiology, molecular biology and molecular cytogenetics at K-State and also internationally. She has served as major/co-major advisor for 13 master's and doctoral students and 10 postdoctoral fellows/visiting scholars. She also served on the supervisor committee of nine graduate students.
Jugulam is a recipient of several awards, including, Outstanding Scientist Award-Sigma Xi, K-State; Distinguished Achievement Award (Research) — NCWSS; Fulbright Specialist Award; Outstanding Research Award, Gamma Sigma Delta-K-State; and the K-State College of Agriculture Excellence in Graduate Teaching Award, Faculty Development Award and Academic Excellence Award (twice). Jugulam is an active member of several professional societies including International Weed Science Society, Weed Science Society of America, North Central Weed Science Society and Western Society of Weed Science.
Two students from Jugulam's research group also were recognized at this year's meeting. Doctoral student Chandrima Shyam won second place in the doctoral poster contest. Ednaldo Borgato, a doctoral student co-supervised by Jugulam and Anita Dille, professor and assistant head for teaching in the agronomy department, won second place in the Three Minute Thesis presentation contest.
Additionally, the meetings were opened by Dille, who also serves as president-elect of the Weed Science Society of America.
The nonprofit scientific society was founded in 1956 to encourage and promote the development of knowledge concerning weeds and their impact on the environment. The society promotes research, education and extension outreach activities related to weeds, provides science-based information to the public and policy makers, fosters awareness of weeds and their impact on managed and natural ecosystems, and promotes cooperation among weed science organizations across the nation and around the world. For more information, visit www.wssa.net.