February 24, 2021
Rich Llewelyn recognized as Professional Staff of the Week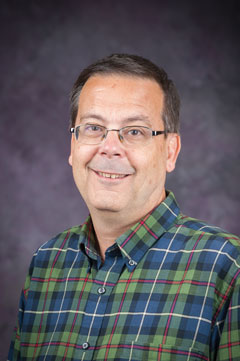 Rich Llewelyn, extension assistant in the College of Agriculture, was recognized as Professional Staff of the Week at the Feb. 23 men's home basketball game. Faculty Senate, the Office of the President, K-State Athletics and the Division of Communications and Marketing wish to recognize his contributions to K-State.
Llewelyn has been an extension assistant for the past 14 years. He manages the AgManager website and coordinates several annual conferences throughout the state, including the Ag Lenders Conference, Risk and Profit Conference and the Kansas Income Tax Institute.
In March 2020, as the COVID-19 pandemic began to affect agricultural markets and producers, Llewelyn provided essential leadership as part of the Farm Management Program Focus Team that recognized the need to provide timely information to producers and other stakeholders. Llewelyn led his team's efforts to provide online education about grain and livestock markets, government policies and programs, land values and farm income. This took place through recorded videos and written factsheets posted on the AgManager website, as well as live webinars which were conducted frequently, including a regular Thursday night series. Overall, 3,350 persons registered for the meetings and 2,385 attended the live presentations. In addition, there were more than 4,700 views of the webinar recordings and more than 8,100 page views of the videos and slides on AgManager. There were nearly 6,000 views of the videos on the AgManager YouTube channel and more than 9,400 page views of slides and other materials, through June. The AgManager site has seen monthly record high pageviews in the last six months, including more than 6,000 views of related factsheets and decision tools.