February 22, 2021
Army aviation officer selected for Hiring Our Heroes Fellowship in College of Education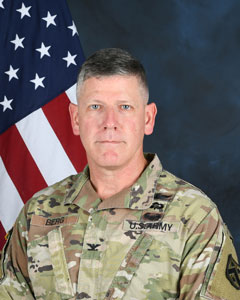 Col. Paul Berg, who earned his doctorate degree from the College of Education's adult education and leadership program in 2016, is spending 12 weeks in the educational leadership department as a
Hiring Our Heroes fellow.
The fellowship program provides transitioning military members an opportunity to experience the civilian workforce in their area of interest. Berg has chosen a career in higher education and will be on campus through April 1.
As part of the fellowship experience, Berg is co-teaching a graduate course, working with faculty to design a new summer course, learning about the grant process and gaining a greater understanding of academia as a whole. In addition, Berg is working closely with the Staley School of Leadership Studies where he gives guest lectures based on his leadership expertise and skills from his 29-year military career.
An Army aviation officer who flew CH47D/F helicopters for the past 25-years, Berg deployed for four combat tours, including the invasion of Afghanistan in 2002, and was company commander during the invasion of Iraq in 2003. His final deployments were both with the 1st Cavalry Division: Iraq in 2009 and Afghanistan in 2011. He also was an instructor at every level of Army officer education, including the Officer Basic Course, the Captains Career Course, and an assistant professor at the Command and General Staff College at Fort Leavenworth.
"While at K-State, I hope to share my insights and perspectives on education and leadership and renew the connection between K-State and the Army's Hiring our Heroes Fellowship programs at Fort Riley and Fort Leavenworth," Berg said. "The skills I am gaining through this fellowship will no doubt help me with future positions in academia and make me a better professor."

Berg is co-teaching Critical and Social Issues of Adult Education, which is mainly comprised of military officers in the Command and General Staff College cohort, another partnership between K-State and the Army.