October 13, 2011
Gross renews Master Certified Flight Instructor accreditation for fifth time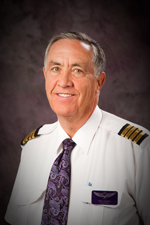 William "Bill" Gross, professor of aviation at Kansas State University Salina, recently renewed his Master Certified Flight Instructor accreditation for the fifth time. One of only 36 worldwide to earn the credential five times, he first earned this national professional accreditation in 2003 and has held it continuously since then.
Gross is the chief flight instructor, chief pilot and director of operations for K-State Aviation. He has been a pilot since 1970 and has trained more than 800 students. He has more than 23,000 flight hours and given more than 4,500 flight checks for pilot ratings. He also serves as a Federal Aviation Administration's Safety Team, or FAASTeam, representative in the Federal Aviation Administration's Wichita Flight Standards District Office area.
K-State has nine faculty members who hold the "Master" title. Holding the Master Certified Flight Instructor with Gross are: Kurt Barnhart, professor and head of the department of aviation; Bernard "Barney" King, professor of aviation and the professional pilot program lead; Thomas Karcz, associate professor of aviation; Troy Brockway, associate professor of aviation; Eric Shappee, associate professor of aviation; Lowell Hinchee, instructor of aviation; and Andrew Smith, assistant professor of aviation and the aviation maintenance training program lead. Raylene Alexander, assistant professor of avionics, is a Master Certified Instructor.
The national accreditation is recognized by the FAA. Fewer than 700 of the approximately 93,000 certified flight instructors in the nation have achieved the master distinction. The designation must be renewed biennially and surpasses the FAA's requirements for renewal of the candidate's flight instructor certificate.