February 22, 2013
Enter to win a $100 gift card and support our student veterans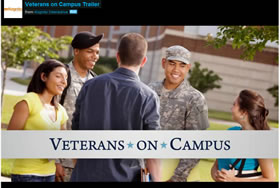 Complete a training about understanding veterans on campus and enter to win a $100 gift card!
As you know, we are seeing and will continue to see an increase in the number of student veterans attending our institution. As members of this campus community, we are all committed to understanding the value student veterans bring to our campus as well as the unique challenges they face in their transition to academic life.

Therefore you are encouraged to take a 30-minute interactive online simulation that will help you better understand the student veteran community and assist them with veteran-related challenges.

Complete the course between Feb. 20 and March 6 and you will be automatically entered into a drawing to win a $100 gift card.

To take the course, follow the instructions below:
Click "Access Training," then "Yes, create my account"
Fill out the form using enrollment key: ksu61
Follow on screen instructions
Your participation automatically places you in the drawing for the $100 gift card. The winner will be notified via email.
I sincerely appreciate your assistance in this important initiative.

Dorinda Lambert
SafeZone coordinator