December 14, 2020
David Hodgson and Monica Woods recognized as Professors of the Week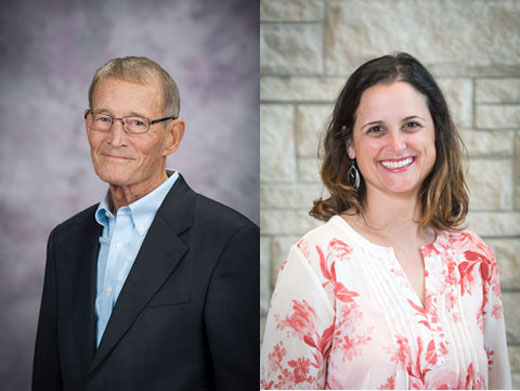 David Hodgson and Monica Woods were recognized as Professors of the Week during the Dec. 11 men's home basketball game.
David Hodgson, professor of anesthesiology in the College of Veterinary Medicine, and Monica Woods, instructor of accounting in the College of Business Administration, were recognized as Professors of the Week during the Dec. 11 men's home basketball game. Faculty Senate, the Office of the President, K-State Athletics and the Division of Communications and Marketing wish to recognize these individuals' contributions to K-State.
Hodgson joined K-State's Department of Clinical Sciences in 1989. Hodgson is a diplomate of the American College of Veterinary Anesthesiologists. He is a recognized expert in anesthesia equipment design, function and use. His research interests include cardiopulmonary effects of various anesthesia manipulations in horses and other species. Hodgson's innovative ideas have been directed toward enhancing patient care and safety. Design and fabrication of novel anesthetic delivery devices have been career-long interests. Helping students think critically and scientifically about clinical anesthesia-related issues have been especially satisfying for Hodgson. He teaches in the fourth-year Clinical Anesthesia rotation as well as lecturing in the third-year Surgery I course, Surgery I Laboratory and the elective, Advanced Concepts in Veterinary Clinical Anesthesia. Hodgson also plays a vital role as a graduate and residency training advisor.
Woods joined K-State's Department of Accounting in 2005. As part of her teaching appointment, she teaches ACCTG 231, Accounting for Business Operations. Woods is an exceptionally dedicated teacher. She works continually to design her classes around activities that increase the effectiveness of her teaching. Her innovative approaches in the classroom provide rigor in her classes with the ability to motivate students toward success in preparing them for their future studies and career success. Woods was selected by the College of Business Administration to receive the 2020 Ralph Reitz Outstanding Teaching Award.