December 8, 2020
BRI director offers testimony to U.S. Senate committee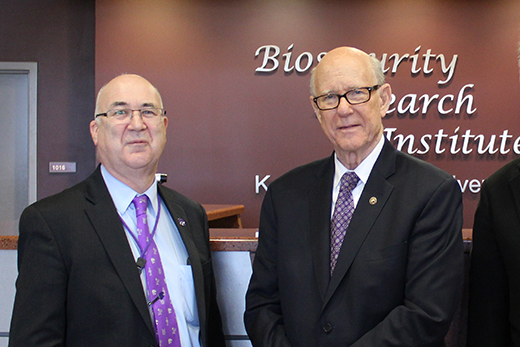 This 2017 photo shows Stephen Higgs, Biosecurity Research Institute director, left, and Sen. Pat Roberts during a BRI tour.
Stephen Higgs recently provided testimony to the U.S. Senate Committee on Agriculture, Nutrition and Forestry and highlighted important research at Kansas State University's Biosecurity Research Institute.
Higgs, K-State associate vice president for research and BRI director, gave the testimony at the Dec. 2 meeting, "Agricultural Research and Securing the United States Food Supply." During his presentation, Higgs shared important research, education and training at the BRI, including recent work with SARS-CoV-2.
"The work of this committee is extremely important, not just for Kansas but for the nation," Higgs said. "It is bipartisan and their willingness to talk with scientists, industry representatives and farmers means that they can make good and balanced decisions. Very few people are offered the opportunity to testify to the committee so it is a great honor to be included.
"This was especially important to me because it was Sen. Pat Roberts' last meeting as the chair of the committee," Higgs said. "I have met Sen. Roberts several times and it was great to hear many committee members pay tribute to his contributions and recognize what a genuinely nice and good person he is. As you know, the BRI is housed in Pat Roberts Hall."