November 12, 2020
Olivia Law-DelRosso named assistant dean for diversity, equity, inclusion and belonging in the College of Business
Submitted by Brent Fritzemeier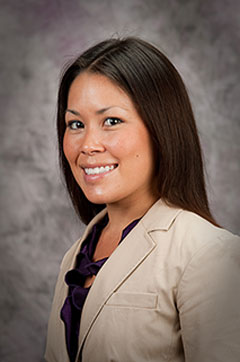 The Kansas State University College of Business Administration welcomes Olivia Law-DelRosso as assistant dean for diversity, equity, inclusion and belonging.
Law-DelRosso holds a Bachelor of Science in psychology, a master's in public administration and a doctorate in student affairs in higher education. Her research focuses on diversity and inclusion in higher education with a focus on social class culture in business schools.
"We are excited to have Dr. Law-DelRosso lead our efforts in the areas of diversity, equity, inclusion and belonging," said Kevin Gwinner, Edgerley family dean of the College of Business Administration. "K-State is committed to a transformative, sustainable strategy for equity and inclusion. By being a leader in this area, we can help to bring about needed change in the culture of business and society at large."
Before joining the college, Law-DelRosso worked in international programs, banking and human resources. She was hired by the college in 2010 as a program coordinator supporting the integrated investment management certificate, Phillips 66 Ethics Initiative, and Center for the Advancement of Entrepreneurship. In 2012 she was promoted to director of professional advantage. In this role, she founded the college's career development program which, from its inception, served all business students. She became a full-time instructor in the management department in 2016 teaching management concepts and managing for diversity and inclusion in the workplace.
Law-DelRosso is a certified diversity and inclusion recruiter and a qualified administrator of the intercultural development inventory. She is regularly invited to consult for companies and does so through her D&I class to provide experiential learning opportunities for her students. She also frequently facilitates diversity, equity, inclusion and belonging workshops in the community.
"I'm looking forward to continuing to work with partners across campus to foster a diverse student body and workforce and a culture of belonging," Law-DelRosso said. "Our institution, businesses, and community benefit when we celebrate diversity and learn from, and with, each other. Building cultural competence as individuals and an organization is a lifelong journey. We both welcome and enjoy the challenge of continuous learning and view this work as critical to our success."