September 25, 2020
National Science Foundation awards grant for Smart and Connected Communities project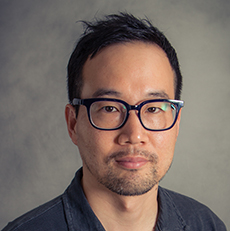 Hyung Jin Kim, associate professor in the landscape architecture and regional & community planning department at Kansas State University's College of Architecture, Planning & Design, or APDesign, recently received a $150,000 grant from the National Science Foundation for the Smart and Connected Communities project.
Kim will serve as lead principal investigator working with K-State faculty members George Amariucai, computer science, and Bala Natarajan, electrical and computer engineering, on a pilot study and workshop for enriching rural-to-urban disaster resilience by integrating social, spatial and digital networks.
The social networks that comprise our local communities can be critical for helping individuals, households and businesses respond, overcome and recover from natural disasters such as floods. Traditionally these networks are based on direct and indirect face-to-face interpersonal relationships often clustered within geographically defined communities. In the digital era, however, we have seen the rapid transformation of social networks challenging traditional notions of community and our understanding of the roles community-based social networks play in disaster situations. If digital technologies play a crucial role in facilitating a new wave of social networking, how might these networks augment and enhance more community-based networks' response to disasters? Will people and households use their traditional community or geographical-based versus digital/virtual networks in disaster contexts? To what extent do these networks overlap and reinforce each other? And, what kinds of infrastructure can and should, be built to create an augmented social-spatial-online network system for disaster resilience?
The Smart and Connected Communities project will conduct an interdisciplinary investigation into multilayer social networking patterns for information dissemination in disaster situations overlaying social, geographical and digital networks and organize a multistate community-engaged workshop that will help build a framework for evaluating the infrastructure needs and robustness of augmented social networking for digitally and geographically disconnected communities. The project will target rural to urban communities in several Midwest U.S. watershed regions in Kansas, Missouri and Nebraska that have been frequently affected by natural disasters.
The results of the pilot study will be shared, evaluated and refined through a series of community interactions, including community workshops and direct research engagements. Ultimately, this project will catalyze new research collaborations within the STEM workforce in the underserved disaster-prone U.S. communities that can help develop interdisciplinary technological innovations for building augmented social networking systems enhancing disaster response and resilience in the United States.
Kim's area of research interest is in the intersections between environmental design, social environment and people's behaviors situated in diverse community contexts from rural to urban. Kim seeks opportunities to accelerate interdisciplinary innovations on the built environment research.
"This National Science Foundation grant recognizes Dr. Kim's expertise in planning for cities of the future and establishes an interdisciplinary research team that will contribute to the disaster resilience of communities in Kansas and beyond," said Stephanie Rolley, department head in landscape architecture and regional & community planning. "Community-engaged research is a foundation of our department and college."
The NSF Smart and Connected Communities program aims to accelerate the creation of the scientific and engineering foundations that will enable smart and connected communities to bring about new levels of economic opportunity and growth, safety and security, health and wellness, and overall quality of life. The program supports interdisciplinary research that synergistically integrates technological and social science dimensions for U.S. communities entering a new era of transformation through rapidly changing intelligent technologies.