September 21, 2020
K-State Libraries dean to retire in May 2021
Submitted by Communications and Marketing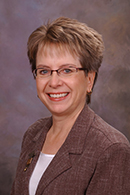 Longtime Dean of K-State Libraries Lori Goetsch is ready to start the next chapter in her life: retirement. Goetsch's last day will be May 28, 2021.

"I would like to thank Dean Goetsch for her outstanding service to Kansas State University, particularly in the last two years as she steered the university through the aftermath of the Hale Library fire to overseeing its renovation and transformation as a next-generation library," said Charles Taber, provost and executive vice president. "Her leadership has been truly appreciated during this time as has her work to ensure the university libraries' mission of assisting academic success in research, learning and discovery."

During her tenure as dean since August 2004, Goetsch has guided K-State Libraries through many challenges, most notably the May 2018 fire at Hale Library that led to the building's closure for 15 months. Goetsch was tasked with overseeing the recovery process and then leading the planning and renovation to turn Hale into a next-generation library.

"I think my greatest accomplishment and the one that was most unexpected was the Hale fire and our recovery," Goetsch said. "I learned so much about a lot of things — general contracting, interior design, architecture, insurance — it was quite an experience and one I'm very proud of. We will have a beautiful and functional Hale Library for many years to come."

Goetsch calls the fire and its aftermath the most challenging experience of her career.

"I think I have persevered because I wanted to give back something to K-State that can be a point of pride," Goetsch said. "I thought about retiring earlier, then the fire happened and it just didn't feel right to bail out at that point. I needed to see it through and I wanted to be part of making our vision for the new library a reality."

The Hale recovery and her other successes as dean would not be possible, Goetsch said, without the staff of the K-State Libraries, which include Hale Library, the Math/Physics Library and the Paul Weigel Library of Architecture, Planning and Design.

"I want to acknowledge the great staff of the K-State Libraries," she said. "They are a service-oriented, hard-working, creative group that has a strong commitment to the K-State community. They've made it through the fire and are now doing the same with COVID-19. I admire their resilience and persistence."

The timing of Goetsch's retirement coincides with the completion of the Hale Library renovation, which is slated for January 2021.

"I want a few months to enjoy and appreciate the building and the effort it took to get us to completion," Goetsch said. "Then it seems like a good time to ride off into the Kansas sunset. I will definitely miss, most of all, the great people at K-State."

Before coming to K-State, Goetsch served as director of the public services division at the University of Maryland's library, head of reference services and associate professor at the University of Tennessee, women's studies bibliographer, librarian and head librarian for information-reference at Michigan State University, and assistant reference librarian at the University of Illinois at Chicago.

As a researcher, Goetsch's published work covers a range of topics, including the importance of library safety and security, the impact of librarians on students, faculty and staff and their accomplishment of the libraries' missions, as well as the status of women in librarian positions in relevance to sex discrimination in employment.

She also has been active in several professional organizations, including the American Library Association; board member of the Greater Western Library Alliance, State Library of Kansas and the Emporia University School of Library and Information Management; president of the Association of College and Research Libraries from 2009 to 2010 and also serving on its board; and an executive member of Humanities Kansas.

Among Goetsch's many honors are receiving a National/International Diversity in the Curriculum grant, Michigan State University Libraries Distinguished Librarian Award and selection to the Association of College and Research Libraries/Harvard Leadership Institute in 2000.

Goetsch earned bachelor's and master's degrees in English from Illinois State University and a Master of Library Science from Rosary College, now Dominican University.

A search for Goetsch's replacement will begin in the near future with additional details forthcoming.