January 24, 2013
Registration open for Innovation in Teaching and Learning Conference March 4-5
Submitted by Swasati Mukherjee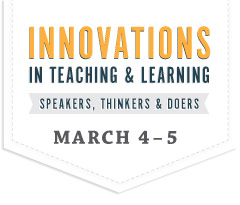 Hosted by K-State's information technology services, the Innovations in Teaching and Learning Conference is now open for registration. This two-day conference, March 4-5 in the K-State Student Union, offers:
A showcase of more than 40 of your peers demonstrating their use of technology in the classroom
Two mini-presentations you don't want to miss
Seven hands-on workshops about popular tools used at K-State
Keynote and digital photography workshop presented by the Emmy-award winning New York Times columnist David Pogue
To learn more and register for free, go to theitl.org.
Questions? Contact Swasati Mukherjee at swasatim@k-state.edu or 785-532-2499.