July 30, 2020
Longtime K-State supporter Betty Brammell Tointon passes away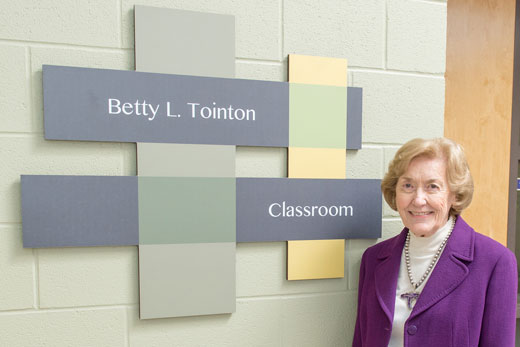 Betty Brammell Tointon, 87, passed away Monday, July 20, 2020. Betty and her husband, Bob Tointon, both graduated from Kansas State University in 1955 and have given much of their time, expertise and financial support to the university, K-State Athletics, the K-State Alumni Association and the KSU Foundation.
Betty came to K-State from McPherson, Kansas, to earn her degree in human ecology. Bob, a graduate of Almena High School in Almena, Kansas, received his degree in civil engineering. Hailing from nearly opposite ends of the state, Bob and Betty met at K-State and served together in the Mortar Board and Blue Key honoraries and as senior class officers. The Tointons built a life together in Greeley, Colorado, but K-State remained an important part of their philanthropy and community service.
"We are deeply saddened by the passing of Betty Tointon, a dear friend and loyal supporter of Kansas State University," said K-State President Richard Myers. "Betty always had a smile and a good word for everyone. Many K-Staters have and will continue to benefit from her generosity and philosophies on life."
The Tointons have supported the College of Health and Human Sciences and the Carl R. Ice College of Engineering, as well as K-State Athletics and the K-State Alumni Association.
In the College of Health and Human Sciences, where Betty received her degree, the Tointons supported the Hoeflin Stone House Early Childhood Education Center, the renovation of Justin Hall, and established the Betty L. Tointon Deanship, the second endowed deanship at K-State. In 2004, Betty and Bob received the Friend of the College of Human Ecology award.
The Tointons have supported K-State Athletics by investing in every one of their major facility projects and give at the highest annual level at the National Leadership Circle Diamond level. Their name adorns the baseball stadium, which they have contributed to twice — once for the initial construction and again in 2019 for its renovation.
While the Tointons have generously invested in K-State financially, Betty gave much of her time to help K-State succeed. Betty served on the KSU Foundation Board of Directors and on the K-State Alumni Association's Board of Directors. Betty and Bob guided the Changing Lives Campaign as members of the national steering committee, and in 2006, they were awarded the K-State Medal of Excellence.
Betty loved K-State, and she's left a legacy of generosity, kindness and forward-thinking across the academy. "I am hopeful that the decisions we made enriched the institution so it can always be the best for the faculty, students, athletes and alumni," Betty said. "If so, we have walked the walk and talked the talk with purple pride!"
K-State leaders offered their condolences to the Tointon family.
"Betty was an exceptional lady and my life has been richer because I got to know her. She has had a lasting impact on this world in so many ways through her family and children, her work and her generosity. The college and K-State were blessed that she chose to attend our institution many years ago. I am both privileged and honored to hold the Betty L. Tointon Deanship in the College of Health and Human Sciences at K-State. She will be greatly missed."
— John Buckwalter, dean of the College of Health and Human Sciences
"Betty was a genuine person whose sincerity was apparent to everyone she met. We were fortunate enough to have Betty serve on the K-State Alumni Association Board of Directors and when she spoke, others listened. She was always a voice of reason. Her love for her alma mater was unmatched. The Tointon Great Room at the Alumni Center is one of the most used spaces in our building, and it is fitting that this welcoming space bears her name."
— Amy Button Renz, K-State Alumni Association CEO and president
"Betty was one of the most gentle and caring individuals I have ever met. She, along with the entire Tointon family, cared deeply for Kansas State University and K-State Athletics. All of our student-athletes, baseball in particular, have benefited greatly from their generous support. She will be missed, and Bob and the Tointon family will continue to be in our thoughts and prayers."
— Gene Taylor, K-State Athletics director
"Betty Tointon maintained a lifetime of deep connection to Kansas State University. She possessed a magnetic quality that was so positive and thoughtfully engaging. Anyone who ever met Betty truly relished the experience. Betty's leadership involvement on the KSU Foundation Board of Directors and the K-State Alumni Association Board had a profound impact on our organization's development and the capacity we have to serve K-State today. She will be greatly missed by the K-State family."
— Greg Willems, KSU Foundation CEO and president