June 10, 2020
Cats' Cupboard open this summer, pickup procedure changing
Submitted by Sarah McGreer Hoyt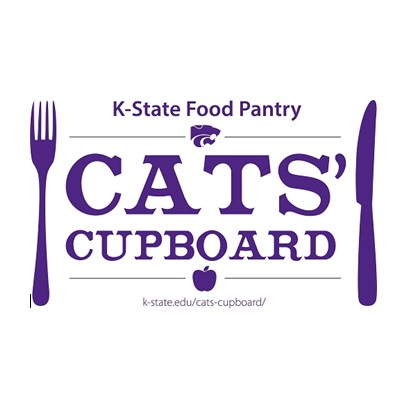 Cats' Cupboard will continue to provide nonperishable food and basic hygiene supplies this summer to all K-State students and employees struggling with food security. Students must be enrolled in summer and/or fall classes.
The physical food pantry location is closed, but K-Staters can place one order every week through the Cats' Cupboard online order form. Orders placed by midnight on Tuesdays are available for pick up 9 a.m. to 4 p.m. on Thursdays.
Starting Thursday, June 11, the building will be open for pickups. Free parking is available. Visitors should come inside the east entrance and retrieve their bag in the hallway outside of Cats' Cupboard, 9 Fairchild Hall. A volunteer will be there to provide assistance. Masks are not required, but they are appreciated. Please note, the food pantry will remain locked; all orders must be made in advance online.
Finally, to supplement Cats' Cupboard groceries with fresh food, both employees and students may want to consider applying for the Supplemental Nutrition Assistance Program, or SNAP, formerly known as food stamps.
Employees can learn more through our region's food bank, Harvesters.
SNAP eligibility requirements for students are different than non-students: Students without dependents must work an average of 20 hours a week or have an on-campus work-study job. Any student who would like assistance determining whether they might qualify for SNAP is welcome to contact Sarah McGreer Hoyt, Cats' Cupboard operations lead, at shoyt@k-state.edu for more information and help with the application.
Additional community resources follow:
Common Table is still operating and serving dinner seven nights a week in Manhattan. These meals are to-go only. Find more information on its Facebook page.
The Flint Hills Breadbasket is currently operating business as usual. Its hours and services can be found on its website.
Harvesters is still hosting mobile food drops in the community. These provide a lot of fresh food. The next date is this Friday, June 12, in the C1 parking lot of the Chester Peters Recreation Center.