May 21, 2020
National Strategic Selling Institute raises $10,000 for Coming Together for a Cure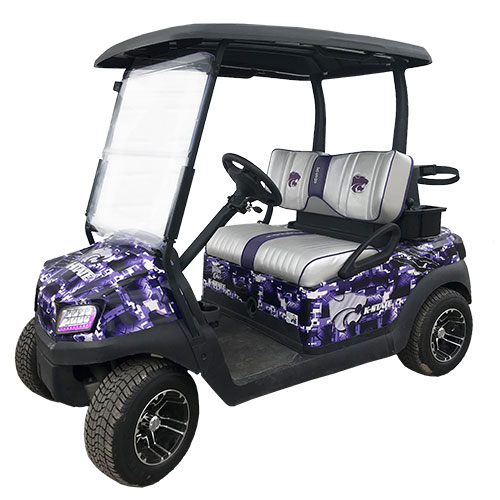 The National Strategic Selling Institute, or NSSI, was unable to host its eighth annual NSSI Benefit Auction this spring. But that did not stop the students' fundraising efforts.
Through this hands-on experience, students in the Advanced Selling class learned about territory management, prospecting, phone sales and the sales process in a real-world setting. The sales students enrolled in the class transform into true sales professionals, learning how to prospect, deliver value, and use a customer relationship management system in the process.
Even with the changes and event cancellation, students were able to raise money this year by selling raffle tickets for a K-State-themed golf cart. Together the students raised $10,000 for Coming Together for a Cure, Wichita, which was chosen as the charity partner for the event. Founded by a recent K-State graduate, Coming Together for Cure raises support and awareness for adult stem cell therapy to help people battling muscular dystrophy and other terminal diseases.
"We are amazed by the hard work of the K-State students and extremely grateful for their generosity to continue to support the mission if Coming Together for a Cure," said Blake Benton, founder and director of Coming Together for a Cure. "It makes me proud to be an alum and proves how our K-State family mentality holds true even in these difficult times."
The winner of the K-State themed golf cart was L.J. Walker, Gilbert, Arizona.
"My connection to this fundraiser is McKenna Dome," Walker said. "Her father and I have been friends since junior high and I would do just about anything for her and her siblings. When I found out about this, I couldn't sign up fast enough! A special thanks to the sponsors that made this possible and to your program for their efforts. Now I just have to figure out how to get the golf cart to Arizona!"
To help underwrite the cost of the golf cart, students asked for financial support from companies so more money could be given back to the charity partner. Sponsors for the golf cart were Johnson Granite Supply, Eddy's Independent Group, McQueeny Group and Turner Construction.
The National Strategic Selling Institute is housed in the College of Business Administration, which has been named one of the top sales programs in the country for nine straight years by the Sales Education Foundation. In fall 2018, Kansas State became just the 19th university in the U.S. to offer a major in sales. Students can also earn a certificate in professional strategic selling, which is open to all majors at the university. The professional strategic selling program introduces students to the fundamentals of sales and through the innovative curriculum and sales labs allows students to develop the skills needed to be successful.
For more information on the National Strategic Selling Institute, please contact kstatesalesprogram@k-state.edu.