May 19, 2020
Kansas State University Bulk Solids Innovation Center demonstrates adaptability, uniqueness with new global client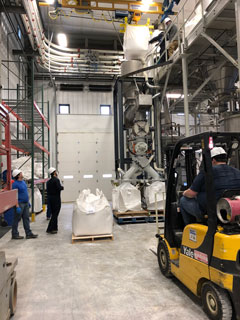 The only facility of its kind in North America, the Kansas State University Bulk Solids Innovation Center is demonstrating why it is so unique with its specialized operations for a new client.
The center is teaming up with a global chemical company to provide testing services for one of its more challenging products. The fine, sticky powder the company makes often experiences buildup or erratic flow in the manufacturing equipment, which equates to a loss of production efficiency. The bulk solids innovation center is helping problem-solve the dilemma by first defining the product's material characteristics and then formulating equipment improvements to make the process more reliable and accurate.
"This project is such a great example of how we are meeting industry needs," said Todd Smith, business and strategy manager at the center. "The company could have done testing at their own plant, but it would have meant shutting down their process and production. We provide a facility where bulk solids manufacturers can get advice, test materials and improve their processes."
The chemical company sent the bulk solids innovation center 60 tons of material to use in testing. During equipment set up, the center used some of its existing infrastructure but highlighted its adaptability when it also used a hopper and other machinery sent by the company as well as custom-built transition pieces and support structure. In addition, the center added transmitters and a special graphing method to its data acquisition system to be able to view results in real time.
"We have done many other projects in which we used a portion of our expertise and abilities, but this is one of the best examples in which we took advantage of many of our strengths to benefit our client," Smith said. "No other place like this exists for helping companies enhance their bulk solid materials and processes."
The first phase of the project with the global chemical company has been completed and now the center is moving on to a second round of testing.
The Kansas State University Bulk Solids Innovation Center also performs research, consulting and professional development classes. For information on all of the services, contact Smith at toddsmith@k-state.edu.