January 10, 2013
QSR International Inc. speaker on using NVivo as a research tool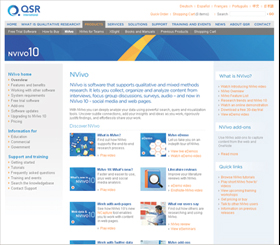 Researchers, faculty and graduate students are invited to a complimentary presentation on "Using NVivo as a Research Tool" at 11 a.m. Friday, Jan. 18, in 301 Hale Library. This tool enables qualitative and mixed-methods research. The presenter, Stacy Penna, is the business development manager at QSR International (Americas) Inc., and she wrote her dissertation using NVivo.
This interactive webinar will cover the following information:
An overview of the key features of NVivo software
How NVivo supports qualitative and mixed-methods research
Using NVivo for writing robust literature reviews
NVivo for grant writing and research proposal development, data management and analysis, and manuscript preparation
How NVivo provides a platform to collaborate with colleagues or your research team in real time
The presenter will be using real data from a Duke University study of the impact of coastal environmental change on residents' lives. She will demonstrate how NVivo software works with different types of data such as interviews, focus groups, video, surveys, and social media. The webinar is planned as an interactive session; comments and questions are welcomed. This event is designed for researchers, faculty and graduate students.
This complimentary webinar may be accessed from any computer with prior registration, or participants may attend by going to 301 Hale Library.
If you are unable to attend the session on campus, please go to the registration link: www2.gotomeeting.com/register/388313570 (after you register, an email will be sent to you with instructions on how to join).
QSR International is based out of Massachusetts. Penna may be reached at s.penna@qsrinternational.com. Her phone numbers are 617-607-5104 (daytime), 617-812-7799 (fax) and 603-234-9502 (cell).
If you have any questions, please email shalin@k-state.edu.