May 5, 2020
Sustainable intensification innovation lab hires communications specialist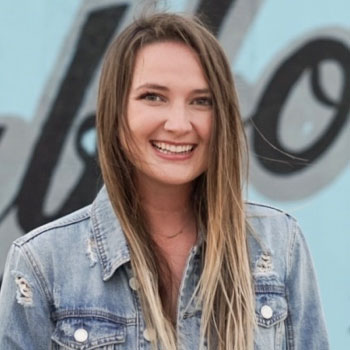 Layne Wilson has been hired as the international communications specialist for K-State's Feed the Future Innovation Lab for Collaborative Research on Sustainable Intensification , or SIIL.
Wilson began her duties working from home in the midst of the current pandemic while the university has been on limited operations status.
"Even though I have yet to meet up with my new co-workers in person, they have been so welcoming and helpful during this transition," she said. "I am truly looking forward to my time with SIIL and to serving the wider K-State community, USAID and all of our partners and target audiences."
SIIL is one of four Feed the Future Innovation Labs funded by the U.S. Agency for International Development and located at Kansas State University. The labs address issues related to reducing global hunger, poverty and under-nutrition. SIIL's international work currently focuses on Bangladesh, Ethiopia, Burkina Faso, Senegal and Cambodia.
Originally from Texas, Wilson earned a bachelor's degree in agricultural communications from Texas Tech University with a minor in agribusiness management.
She served an internship with a California-based international nongovernment organization, Plant with Purpose, where she developed her passion for international agricultural development and storytelling. After graduation, she was a field biology assistant but said she wanted to get back to a position serving international agriculture.
"We have long needed a dedicated communications person to make sure that our stories, and those of our partners, are being told to a wider audience," said Vara Prasad, university distinguished professor of agronomy and director of SIIL.
"We have a wide range of stakeholders, from researchers and practitioners to consumers and policymakers with specific needs, and we would like to keep all of them informed about the value of our research and innovations. Layne has the required experience and knowledge to accomplish this, and we want to welcome her to the team, and are looking forward to working with her."
Jan Middendorf, associate director of SIIL, said Wilson's educational background and interest in sustainable intensification and farming systems "provides a powerful foundation for her role as our international communication specialist."
For more information on SIIL, go to k-state.edu/siil.