January 7, 2013
History on the move: Purple Masque Theatre getting new home in West Stadium
Submitted by Communications and Marketing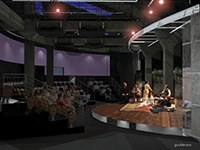 As Kansas State University celebrates its first 150 years, a dramatic part of the university's history will be moving to a new home -- ghost and all.
The university's own Purple Masque Theatre, currently in East Stadium, is getting a new home in West Stadium. A projected completion date is summer 2014.
The East Stadium space served as the scene shop for the university's old Auditorium until the building was burned in 1965. The East Stadium space continued to serve as the scene shop for the theatre program, but would sometimes be cleaned up and used as a performance space as well. However, most performances were done in such places as Williams Auditorium, All Faiths Chapel and near the courtyard area at the K-State Student Union.
When McCain Auditorium opened in 1970, the scene shop activities that had been in the Purple Masque were moved to the new auditorium. For the next few years, the theatre program treated the Purple Masque as a black box theatre.
Frozen into its current configuration in 1974, the Purple Masque Theatre is now used for drama therapy, acting and directing, student showcases, play readings, workshops, playwrights' stage, acting recitals, scene rehearsals, Ebony Theatre performances, various traveling drama therapy performance groups, and final scenes for the Principles of Directing course.
"The new facility will let us do many things more easily and will function at a higher technical level to a larger audience," said John Uthoff, associate professor in the School of Music, Theatre, and Dance. "We also will be able to teach the course Stage Makeup for the first time in our own facilities and not in McCain's."
The Purple Masque's current space and has been improved by various projects since 1974. It also was shut down in 1978-1979 due to flooding issues.
While theatre program faculty, staff and students are looking forward to the new Purple Masque Theatre, they hope one of the unique features of the current location will join them on the west side of the stadium: Nick the ghost, the football player who is said to haunt the East Stadium digs.
"We're planning a seance to get Nick to move with us when the new Purple Masque is built," said Marci Maullar, managing director of the K-State theatre program. "It just wouldn't be the same without him."
Renderings of the new Purple Masque Theatre are available at http://www.k-state.edu/theatre/PM%20Renderings.html.