December 17, 2012
Think anew about art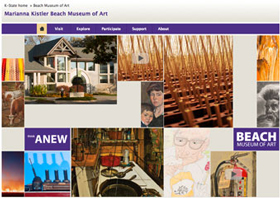 The Beach Museum of Art is announcing the launch of its newly designed website. Users can now better explore exhibitions and collections; learn about classes, programs, tours and educational resources; and hear artists speak about their work.
With an emphasis on improved design, navigation and branding, the website was created through collaboration with the Kansas State University's web services, utilizing the new content management system.
The Beach Museum of Art invites you to think anew about art by visiting http://beach.k-state.edu/.