December 13, 2012
Annual Football Awards Ceremony set for Friday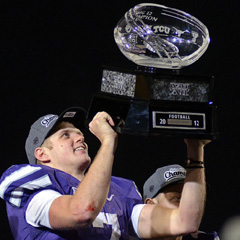 K-State's 2012 Big 12 championship football season will be celebrated Friday as the program's annual awards ceremony will be in McCain Auditorium.

The event will begin at 7 p.m. and is free to the public. K-Staters worldwide can watch the event free-of-charge at www.k-statehd.tv. The evening will feature complete team introductions, video highlights of the 2012 season, presentations of team awards and speeches from K-State President Kirk Schulz, Athletics Director John Currie and Head Coach Bill Snyder.

To reserve tickets to the banquet, contact the McCain Auditorium box office at 785-532-6428 between 11:30 a.m. and 4:30 p.m. Monday through Friday.