December 10, 2012
Brad Hill Baseball Camps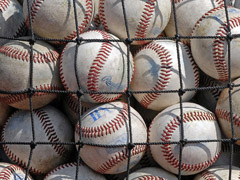 Brad Hill Baseball Camps is sponsoring the third annual Christmas with the Cats. This event looks to be a huge hit as we combine Christmas with baseball.
Do you have any last minute shopping to do before Christmas? Let your kids come spend time with us in Brandeberry and in the indoor football facility as we teach the fundamentals of baseball while also enjoying the atmosphere of the joyous holiday season. We will take the kids through a series of drills to enhance their skills and understanding of the game. The camp will also include fun games and competitions to keep the atmosphere upbeat and exciting.
Camp tuition includes two meals and drinks for lunch and dinner. Sign up today and reserve your spot to spend Christmas with the Cats. It is open to children ages 6-12 from 9 a.m. to 8 p.m. on Dec. 15.
We are also hosting a Future Stars Kids Camp on Jan. 21, 2013. What a better way to spend a day off from school then having fun with the Wildcat baseball team. This one-day baseball experience will provide high quality instruction that covers every aspect of the game with instruction from some current Wildcats and members of the K-State coaching staff. The morning will consist of teaching pitching and defense, and in the afternoon we will focus on offensive skills.
Campers will be separated into groups by age/experience and will enjoy various practice drills and friendly competitions. This camp is designed to teach basic fundamentals, plus run the camps through game like situations in our spacious indoor facility. Campers need to pack a lunch, as we will take a lunch break between sessions. The camp is for children ages 6-12.
More information can be found on the Kansas State baseball website at http://www.kstatesports.com/sports/m-basebl/spec-rel/baseball-camps.html
Contact assistant coach Blake Kangas at 785-532-7968 or bkangas@kstatesports.com for further questions.