December 7, 2012
University Life Café art winners announced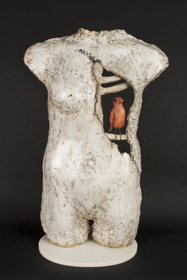 The winners of the fifth annual University Life Café Art Contest have been selected. Sixty pieces were accepted into the gallery show this year with seven being given top honors. The following are the top pieces:
First place: "Inside Out" by Lauren Reardon
Second place: "Withdraw" by Caitlin Molenaar
Third place: "Subtle" by Elizabeth Decker and "Reilley" by Erin Logan
Honorable mention: "Untitled 1" by Jason Waite, "Venomous Vase" by Austin Schuck, and "Industrial Light" by Kayla Hales
The artwork from the contest is currently on display in the Kemper Art Gallery until Jan. 9, 2013. Make sure to stop by the gallery to vote for your favorite piece. The People's Choice Award will be awarded after the show's close.
To view the pieces online visit: https://www.universitylifecafe.k-state.edu/gallery/5th-annual-university-life-cafe-art-contest/.