November 20, 2012
Senior Night in Ahearn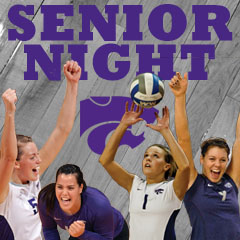 The Wildcat volleyball team hosts Oklahoma at 7 p.m. Saturday, Nov. 24.
Join us in Ahearn Field House to celebrate the careers of Caitlyn Donahue, Kuulei Kabalis, Kathleen Ludwig and Alex Muff as they play their final home match.

Tickets start at $7 for adults and $4 for youth. Purchase a Wildcat 4 Pack and receive four tickets, four hot dogs, four drinks and four bags of chips for $30.
As always, admission is free with a Wildcat student ID.
Go Cats!