November 15, 2012
Recipients chosen for the inaugural Distinguished Young Alumni award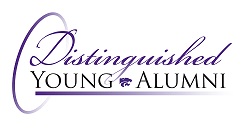 Two recent Kansas State University graduates, Nick Piper, Xiamen, China, and Justine Sterling, Dallas, Texas, are the first recipients of the K-State Alumni Association Student Alumni Board's Distinguished Young Alumni Award.
The award recognizes two K-State graduates who are under 30 years old and are using the scholarship, leadership and service experience they acquired at K-State to excel in their professions and contribute to their communities
"We are thrilled to honor Nick and Justine with this inaugural award," said Megan Sherlock, associate director of student programs for the alumni association. "These two alumni are outstanding representatives of K-State and what the university is all about."
Piper, a 2008 K-State graduate and native of Shawnee, is the founder and CEO of Phoria Energy Solutions, a China-based company that promotes clean and efficient energy use in developing economies. While at K-State, Piper was involved in the Student Governing Association and Blue Key Honor Society, among other groups. Since graduating, in addition to starting his own company, Piper has traveled back to K-State to speak with business classes and is working with K-State's College of Business Administration to create international degree programs with the university and several China-based universities. He also is involved in several philanthropic organizations, including those that help children with special needs and organizations that promote clean energy.
Sterling, a 2007 K-State graduate and native of Hardtner, has served in various roles for President George W. Bush, both in the White House and during his post-presidency in Dallas. While at K-State, Sterling was involved in several organizations, including the College of Agriculture Ambassadors, Blue Key Honor Society and the Kansas FFA Association. Among her many responsibilities as a member of President Bush's staff, Sterling has organized two large-scale inaugural events for service members wounded in combat. She also has traveled to Africa twice to support President Bush and Laura Bush's trips there as part of their global health program.
The K-State Alumni Association and Student Alumni Board will honor Piper and Sterling when they return to campus Feb. 26, 2013, to give keynote presentations and visit with student groups and university classes.
For more on the Distinguished Young Alumni program, visit www.K-State.com/DYA or call the K-State Alumni Association at 800-600-ALUM (2586).