November 2, 2012
'Academic Parenthood' research presentation today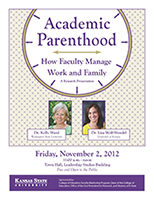 The research presentation "Academic Parenthood: How Faculty Manage Work and Family" will be at 11 a.m. today for faculty in Town Hall at the Leadership Studies Building. A reception and panel discussion for the Women of K-State will take place from 3:30-5 p.m. in Town Hall.
Kelly Ward from Washington State University and Lisa Wolf-Wendel from the University of Kansas authored "Academic Motherhood" and will present at 11 a.m. They will also take part in the panel discussion along with Christy Moran Craft, event organizer and associate professor in the College of Education; Sarah Riforgiate, communications studies assistant professor and internship director; and Jo Maseberg-Tomlinson.
Riforgiate is interested in this topic for many reasons.
"With the rise in dual earner and single parent households, parenting concerns have received increase attention both in the press and in organizational policy consideration making this a salient topic," she said. "Professionally, my research focuses on work-life challenges and the communication intersections of private life and paid labor. Personally, I have been in the role of a working mother in private industry, stay-at-home mother and an academic mother. Therefore, the topic of academic parenthood and the tensions that exist between work and parenting are important to me."
The research presentation and panel discussion are sponsored by the Women of K-State, the College of Education faculty mentoring program and the dean of the College of Education.