October 11, 2019
Saxophone professor performs, teaches at Latin American World Saxophone Congress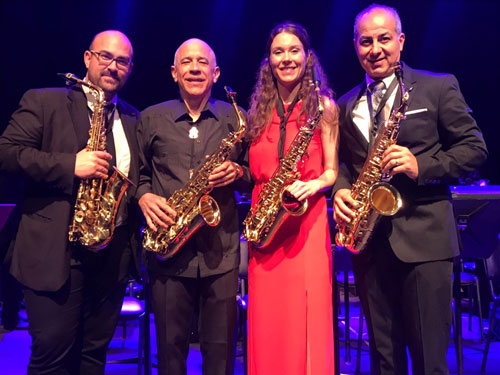 Anna Marie Wytko, K-State associate professor of saxophone, performed and taught as the featured American artist at the Latin American World Saxophone Congress hosted in Argentina and Uruguay.
Wytko was one of only four saxophonists in the world invited to perform as concerto soloist and the only American artist invited to perform and teach at the congress.
In addition to her concerto performances, Wytko presented a solo and chamber music concert at the Conservatorio Superior de Música "Manuel de Falla" in Buenos Aires, Argentina, where she premiered a substantial new work for saxophone by Argentine composer Guillermo Jorge Zalcman. Wytko was also invited to perform with world-renowned saxophone-percussion ensemble "SONSAX" of Costa Rica and world-renowned saxophone quartet "4 MIL" of Argentina. She presented multiple master classes and workshops in both Argentina and Uruguay as part of the congress.
Faculty in the School of Music, Theatre, and Dance have received Grammy awards and nominations, and Emmy awards; produced recordings on international and national CD labels and published books and journal articles with international and national publishing houses and professional organizations; and performed and presented research in every continent in the world, except Antarctica. The School of Music, Theatre, and Dance is a part of the College of Arts and Sciences. Visit its website to learn more about music, theatre and dance at K-State.