August 16, 2019
College of Business Jump Start Program eases transition for transfer students
Submitted by Brent Fritzemeier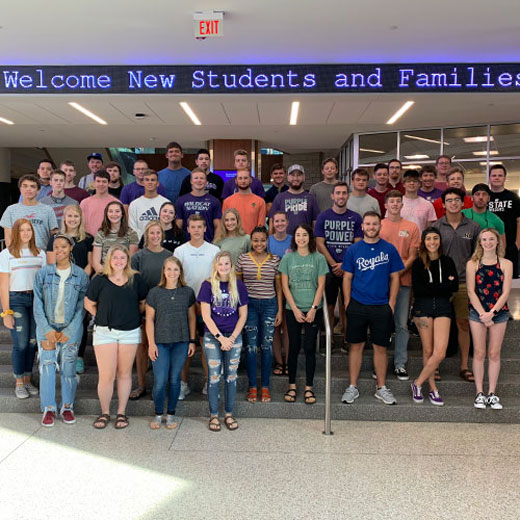 The College of Business Administration welcomed 50 transfer students to campus this week to get a Jump Start on their success at K-State.
Jump Start students came from 30 different institutions from across the state of Kansas. Each participant received a $100 scholarship.
The objective of the Jump Start program is to help transfer students with their transition to K-State, and to get them prepared for the fall semester. The students completed three courses over the span of three intensive weeks: GENBA 105 — Business Orientation, GENBA 205 — Career Accelerator, and GENBA 110 — Business Foundations; or if students have already taken an Intro to Business or Business Foundations class at their previous institution, they had the option to take MANGT 420 — Principles of Management.
The business orientation course was taught by Kevin Moodie, a professional academic advisor in the College of Business, who worked with the students to craft individual long-range plans for each students' program of study and extracurricular activities. Engaging with Wendy Pfeifer, one of the college's career counselors, and completing the required Career Accelerator course also allows students to confidentially attend career related activities and events in their first semester, including the All University Career Fair during the month of September.
Jump Start participants are also treated to special events throughout their time in the program such as a kick-off Bagel Bash, an exclusive networking lunch event with employers, and a Call Hall Ice Cream Social.
"Transfer students who participated in Jump Start last year saw an average GPA that was almost .4 points higher than other first semester transfer students," said Bente Janda, assistant dean for undergraduate student services. "We are very proud of this program and the impact it has on students, and look forward to welcoming another group of students next year."
For more information about the program, visit the program website. Applications for next year will open in February 2020.