August 20, 2019
Johnson joins College of Education as chair, endowed professor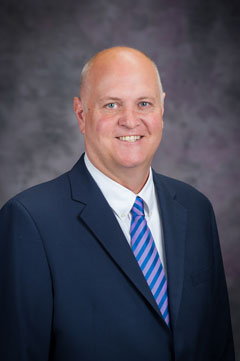 Award-winning scholar Jerry Johnson joined the College of Education as chair of the educational leadership department and Lydia E. Skeen endowed professor in June.
Johnson brings a wealth of experience as a seasoned classroom educator and researcher to his new position. A former English teacher and high school principal, Johnson has taught in educational leadership programs for 15 years and served for five years as the policy research director for the Rural School and Community Trust, a national nonprofit organization addressing the crucial relationship between good schools and thriving communities.
Debbie Mercer, dean of the College of Education, said Johnson is a tremendous asset to the college.
"Jerry is a wonderful complement to our college, and his background as a P-12 school leader brings a fresh perspective to our programs and initiatives," Mercer said. "He is a collegial partner with a strong scholarly record focused on supporting rural schools who has already made an impact by delivering a keynote address at our college's Rural Education Summit this summer."
The 2017 recipient of the Stanley A. Brzezinski Memorial Rural Education Research Award from the National Rural Education Association, Johnson's research has been supported by external funding from the U.S. Department of Education's Institute of Education Sciences, state departments of education, private foundations, and local school districts.
Current leadership roles in professional organizations include serving as associate editor of the Journal of Research in Rural Education; advisory board member for the Center on Great Teachers and Leaders; and editorial advisor to the journal Education Leadership Review — Doctoral Research. In addition to his work in the U.S., Johnson consults regularly with universities and ministries of education in the Middle East on leadership development and higher education reform initiatives.
Johnson earned his bachelor's degree in political science and master's degree in English literature from Eastern Kentucky University and his Doctor of Education in educational administration from Ohio University. His research interests include rural schools, educational policy and place-based education.