July 23, 2019
College of Education hosts another successful STEM Summer Institute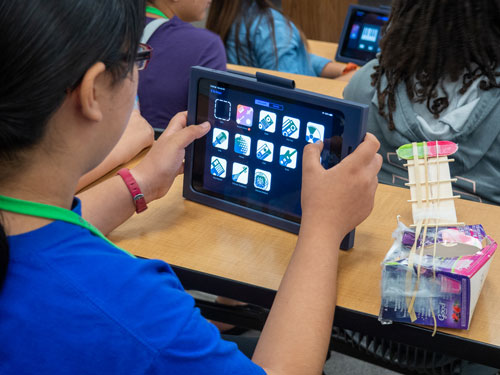 Approximately 315 middle school students participated in the ninth annual STEM Summer Institute, June 3-28, based in Bluemont Hall. The collaborative effort, involving College of Education graduate students and 53 pre-service elementary and secondary teachers in the Core Teaching Skills course, was highlighted by a showcase on Friday, June 28.
"The best partnerships are mutually beneficial," said Debbie Mercer, dean of the College of Education. "The Summer STEM Institute is a good example of high-quality experiences for our future teachers outside a regular classroom, engaging curriculum for students, and collaborative learning between USD 383 master teachers and our university students. The institute is impactful for all involved."
Students in the fifth through eighth grades had 25 topics from which they could select. Among those were Thinking Through Games, M.U.S.I.C. (Music Using STEM is Cool), Veterinary Medicine, Wild Writing, and Food for Thought. The sessions were led by 15 teachers from USD 383, as well as several area educators and university faculty. Also assisting was BHS Construction, a local business that led a Maker Space session at Marlatt Elementary School. Classes were hosted Monday through Thursday mornings, with students rotating to other classes each week. The program is open to USD 383 students as well as out-of-district students. Fifteen USD 383 teachers helped lead classes this summer.
"This is my sixth year serving as the K-State coordinator of the program, and I'm always amazed at the powerful learning that takes place," said Lori Goodson, assistant professor of curriculum and instruction at the COE and lead instructor for Core Teaching Skills. "But it's not a traditional approach to learning — it's hands-on, collaborative learning. Students are actively engaged throughout the four weeks.
"And it's not just the middle schoolers who are learning," Goodson said. "Our pre-service teachers gain incredibly valuable experience working with students, leading lessons, and learning from some of the best area teachers around."
In addition to Goodson, helping lead the institute were USD 383 personnel Deb Nauerth and Sheila Stephens, principals for the institute; Duke Harmon, technology coordinator, and Lacee Sell, director of teaching and learning. Kaylee Myers, instructor in the College of Education's curriculum and instruction department, co-taught the Core Teaching Skills course.
The institute has recently expanded its offerings to include several arts-related topics such as writing and music, which it hopes to expand next summer.
Besides learning more about STEAM careers, those attending also get an opportunity to visit a university campus. Despite their proximity to the campus, several attendees have never had that experience.
Others also benefited from the institute. Visiting Khbrat scholars, teachers from Saudi Arabia at K-State as part of the yearlong Khbrat Summit, visited the classes as part of their program, as did high school students participating in the Kansas Advanced Teaching Academy for future teachers, which was sponsored by the College of Education.
The third annual showcase provided an opportunity for students and teachers to highlight their classes and projects for family, friends, educators, and community leaders.
The institute was originally funded through a federal grant. Today, Manhattan-Ogden USD 383, the College of Education and donors support the project. Individuals interested in supporting the Institute should visit the website, STEM Institute, or contact Abel Frederic, KSU Foundation senior director of development at abelf@ksufoundation.org.