July 15, 2019
Latest Global Food Systems podcast features Sandy Procter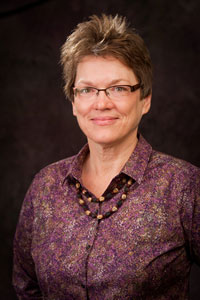 The Global Food System podcast, "Something to Chew On," has published "Improving Family Nutrition at Home and Abroad" with Sandy Procter. Procter is an assistant professor and extension specialist focusing on maternal and child nutrition in the Department of Food, Nutrition, Dietetics and Health at K-State.
A registered dietitian and former coordinator of the Kansas SNAP-ED nutrition education program, she possesses a wealth of knowledge surrounding human nutrition that spans from pre-pregnancy through advanced age.
The wide-ranging discussion covers some more technical topics relating to maternal health and breastfeeding to the more social considerations of how to demonstrate healthy eating habits to children and provide recommendations to adults.