June 28, 2019
Veterinary faculty present research and attend doctoral defenses in China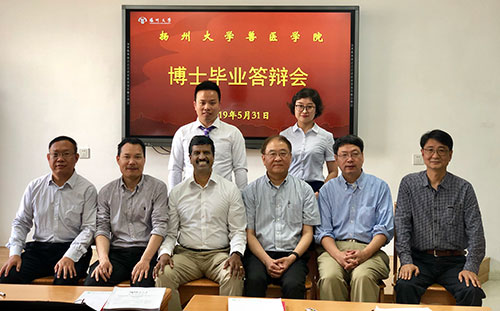 A pair of faculty members from the College of Veterinary Medicine recently visited four different universities in China to present research as guest speakers. Roman Ganta and Jianfa Bai, professors in diagnostic medicine and pathobiology, also attended doctoral student defenses of former students during the trip between May 26 and June 8.
The first stop was at the College of Veterinary Medicine in Yangzhou University, Yangzhou, where Ganta and Bai sat in on the final exams of Li Chen and Wanglong Zheng. Both received research training at Kansas State University for 12 and 24 months under the research programs of Ganta and Bai, respectively. The research at K-State helped fulfill part of their graduate education requirements that are supported in part by competitive Chinese government fellowship awards.
While at Yangzhou University, Ganta gave a research presentation titled, "Tractable mutagenesis to study pathogenesis and vaccine development tick-borne rickettsial bacteria of the genus Ehrlicha." Bai presented a research lecture titled, "Applications of DNA Sequencing in Veterinary Diagnostics."
For the next few days, the professors separated with Ganta visiting Wuhan University and Huazhong Agricultural University, both located in Wuhan. He presented research seminars on "Gene regulation in Ehrlichia chaffeensis assessed to understand differential gene expression."
Bai attended The First Annual Veterinary Diagnostics Conference — China at Shanghai, June 3-5. He gave invited presentations on the following topics: "High Throughput and Point-of-Care Platforms in Veterinary Diagnostic Services"; "Applications of DNA Sequencing in Veterinary Diagnostics"; and "Molecular Diagnostic Operations at Kansas State Veterinary Diagnostic Laboratory."
Bai and Ganta reunited at Northwest A&F University in Yangling, Xi'an, on June 6 and 7. Ganta gave his gene regulation seminar again and Bai gave a research seminar on "Applications of DNA Sequencing in Veterinary Diagnostics."