October 2, 2012
All-University Campaign progress update – and prizes, too!
Submitted by Susan Wolf Berhow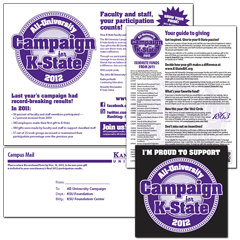 Less than one month into the 2012 All-University Campaign, and K-Staters are already coming together to make a difference. As of Oct. 1, 32 percent of all faculty and staff had already made a gift to the campaign. Click here to see your group's participation numbers so far.
The All-University Campaign is an opportunity for K-State faculty and staff to advance our great university. Through our participation, we show our K-State pride and send a powerful message to our donors, legislators, corporations and foundations, alumni and friends that we believe in K-State's future. Every gift, regardless of the size, makes a difference.
Have you made your gift yet? If you need extra incentive, remember that after you make a gift, you are automatically entered to win some great prizes. You'll have a chance to win everything from a free dip of Call Hall Ice Cream to a paid day off work!
Get started on your gift now, and see a list of this week's prize winners.
Remember, you can follow the All-University Campaign on Facebook and Twitter. If you have a favorite fund that you support during the All-University Campaign, tell us about it. Just post your favorite fund and why you support it on the All-University Campaign's Facebook page or tweet about it with the hashtag #KStateAUC. We will update our online list based on suggestions shared via social media.