April 8, 2019
Petillo presents at University of Kansas conference addressing anti-trafficking discourse in new ways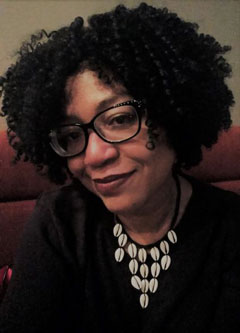 April Petillo, assistant professor of American ethnic studies, Native/Indigenous studies emphasis and affiliated professor of gender, women, and sexuality studies, presented her work, "Refusing Political Will: Trafficking Discourse from an Indigenous Critical Perspective" on Friday, April 5, at the conference Beyond Discourse: Critical and Empirical Approaches to Human Trafficking.
This interdisciplinary gathering lead by the Anti-Slavery and Human Trafficking Initiative, or ASHTI, examined human trafficking research concerned with the patterns of both contemporary and historical slavery as well as how they can inform each other. The conference featured esteemed scholars such as Kamala Kempadoo, Amy Farrell and Sally Engle Merry and provided Petilllo the opportunity to put her work in direct conversation with Muscogee Legal Scholar Sarah Deer via her panel.
Focusing on the lessons learned from U.S. sociolegal treatment of Indigenous and African-American women, Petillo argues that there is a discernable pattern of refusing the use of political will to ensure safety and protection for particular peoples separated according to race and ethnicity. Petillo then asserts that these choices have historically and currently mark political investments in citizenship status for some and the "consumable" status of others according to the needs of a colonized society.
The department of American ethnic studies is proud that Petillo represented K-State at this conference reaching people working on projects throughout the Midwest and transnationally, as well as across multiple sectors. Petillo's presence puts the K-State community in conversation with well-established scholars bringing new, collaborative approaches to better understand what creates an environment where trafficking is possible without defining the limits of individual agency.