October 1, 2012
Landon Lecture today at 11:30 a.m.
Submitted by Communications and Marketing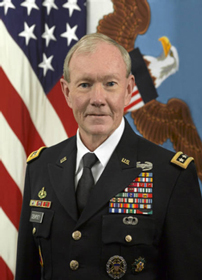 Gen. Martin Dempsey, the 18th chairman of the Joint Chiefs of Staff, will present the university's 161st Landon Lecture at 11:30 a.m. today in McCain Auditorium. The event is free and open to the public.
Dempsey is the highest-ranking military officer in the U.S. Armed Forces and the principal military adviser to the president, the secretary of defense and the National Security Council. Before becoming chairman, he served as the Army's 37th Chief of Staff.