March 27, 2019
Kansas State University Polytechnic Campus Applied Aviation Research Center welcomes new associate director of research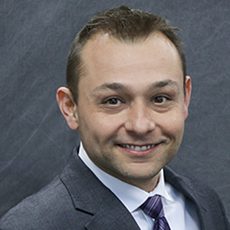 Kansas State University Polytechnic Campus has hired a new leader to enhance unmanned aircraft systems research at the Applied Aviation Research Center.

Tom Haritos, former assistant professor and faculty researcher at Embry-Riddle Aeronautical University in Daytona Beach, Florida, joins Kansas State Polytechnic as the new associate director of research and UAS research program manager at the on-campus center. Haritos began his role in February and is charged with expanding research capabilities and growing the center into uncharted areas.

"We are fortunate to have Dr. Tom Haritos and his family join the Applied Aviation Research Center team on the Kansas State Polytechnic Campus," said Kurt Carraway, UAS executive director of the center. "His experience in manned aviation maintenance coupled with his vast research and faculty experience in UAS is already adding tremendous depth to our research capabilities."

In his new role, Haritos is the center's senior engineer and responsible for the program management of its research efforts. He also serves as Carraway's deputy.

"Dr. Haritos' expertise is already proving instrumental," Carraway said. "In less than three weeks, he's already been involved in submitting four research project proposals, including both federal grants and commercial projects. His industry contacts and record of published works are a true asset to this campus."

A native of Chicago, Illinois, Haritos has spent the majority of his career in higher education, both in a teaching and research capacity. At Embry Riddle, Haritos was on the faculty team to establish the UAS program, first beginning as an academic minor and shortly thereafter, transitioning into a bachelor's degree program.

Haritos' research interests are UAS-focused, including integration into the national airspace, security and security-enabled operations, tracking and detection, cybersecurity, operations, training and more. Haritos was recently published in collaboration between Embry-Riddle and Kansas State Polytechnic, joining forces of two of the top UAS academic institutions to propel the UAS industry forward.

"The aviation paradigm associated with unmanned aircraft systems is experiencing revolutionary growth," Haritos said. "Industry expansion efforts afford opportunities for the Applied Aviation Research Center and Kansas State Polytechnic to continue at the forefront of this evolving industry."

Current and prospective research activities at the center are an amalgamation of industry, government and academic partnerships established to shape state-of-the-art full-scale UAS integration and interoperability in the national airspace system.

"Kansas State Polytechnic has served as a pioneering university in the unmanned aircraft systems industry and has set the benchmark for UAS aviation education and training," Haritos said. "I am both excited and proud to represent the Applied Aviation Research Center and Kansas State University Polytechnic Campus as a leading entity in unmanned aircraft systems science, research, and development."

Currently, Haritos represents Kansas State Polytechnic nationally as a member of the Department of Homeland Security's Critical Infrastructure Partnership Advisory Council, which is focused on UAS security operations and policy development for the protection of critical infrastructure from unauthorized UAS use.

Haritos has a doctorate. in computer and information sciences and a postgraduate degree as an educational specialist, both from Nova Southeastern University; a master's degree in aeronautics with a safety and management dual specialization from Embry-Riddle Aeronautical University; and a bachelor's degree in aviation maintenance management from Lewis University.

The Applied Aviation Research Center at Kansas State University's Polytechnic Campus provides UAS research, training, consulting and more. To learn more about UAS research, contact Haritos at 785-833-2152, ext. 202, or tharitos@k-state.edu. To learn more about the Applied Aviation Research Center and services provided, contact Carraway at 785-833-2152, ext. 208, or kcarraway@k-state.edu.