March 12, 2019
K-State faculty take part in Humanities Advocacy Day on Capitol Hill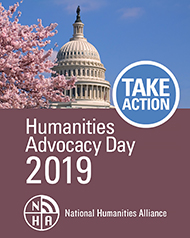 As part of the National Humanities Alliance sponsored Humanities Advocacy Day hosted March 12, nearly 200 humanities advocates — including Professors Jim Sherow and Bonnie Lynn-Sherow — will be in Washington, D.C., to meet with hundreds of members of Congress to make the case for funding for the humanities.
Advocates on the Hill will be asking members of Congress to sign on to Dear Colleague Letters requesting $167.5 million in funding for the National Endowment for the Humanities in fiscal year 2020.
Lynn-Sherow, executive director of the Chapman Center for Rural Studies, will meet members of the Kansas congressional delegation to thank them for their support and encourage future robust funding that make the vision and projects of the Chapman Center possible and many other programs like it.
The Chapman Center for Rural Studies, a Center of Excellence in the College of Arts and Sciences, and the communities it works with have benefited greatly by NEH grants in the past. Its first NEH grant funded the online student research archive of lost communities which promotes the undergraduate research of K-State students and preserves the voices and experiences of Kansans in rural places. Most recently, the Chapman Center was awarded a $100,000 humanities access grant to help rural museums and historical societies in Kansas plan and prepare for future sustainability.
If you are interested in seeing humanities funding by Congress, view the NHA resource.