February 22, 2019
College of Education hosts We the People state competition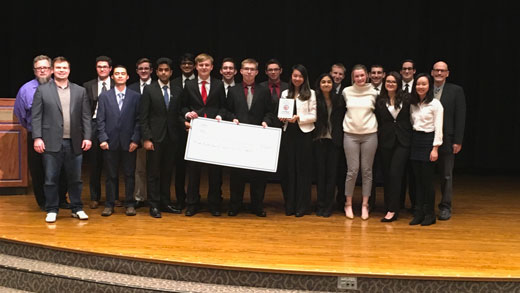 More than 300 high school students from 10 schools across Kansas participated in the annual We the People state competition hosted by the College of Education Feb. 12. Blue Valley Northwest High School was named state champion.
Brad Burenheide, event organizer and College of Education associate professor, said out of 1,020 points, only 64 separated the top three teams. Emporia High School took second place and Seaman High School took third. Students answer challenging open-ended questions about constitutional issues in a mock congressional hearing. The hearing is judged by educators and scholars regarding team understanding, constitutional precedents, current issues and team participation.
The winning team received $5,000 to help defray costs to the national competition in Washington, D. C., and one of the runner-up teams that accepts a wild-card bid will receive $1,500 to defray travel costs to the same competition.
The event is sponsored by the Johnson County First Amendment Foundation, which uses funds from its 1995 lawsuit against the Olathe School District challenging the removal of the book "Annie on My Mind" from its school libraries. Several school libraries in Kansas also removed the book. This year marks the foundation's 20th anniversary. It was created "to promote a better understanding among Kansas students, particularly in Johnson County, of the First Amendment and other Constitutional rights."
Also participating in the competition were Abilene High School, Junction City High School, Humboldt High School, Marais des Cygnes Valley High School, McPherson High School, Olathe South High School and Valley Heights High School.