March 11, 2019
Chad Schwartz recognized as Professor of the Week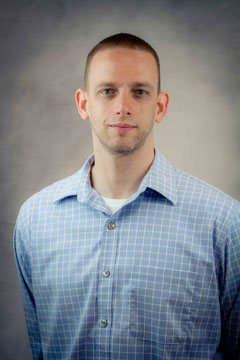 Chad Schwartz, assistant professor of architecture, was named Professor of the Week.
Schwartz joined the faculty in 2017 from Southern Illinois University and has also worked at Arizona State University. He taught upper and beginning studios since joining K-State. His seminars on architectural details have been a student favorite. He produced a series of exhibits constructed in the new shop facility that are on display in Seaton Hall. Schwartz recently published a book, "Introducing Architectural Tectonics," which won an award at last year's Building Technology Educators' Society conference.
Schwartz has made an immediate impact with his students. He received a 2017-2018 Outstanding Faculty Award given by the Mortar Board National College Senior Honor Society for his dedication to student success and the betterment of the university. This student-nominated award reflects his passion for architecture and teaching.
His service to the department was instrumental in the recent successful accreditation visit. He is involved in leadership roles on several national boards and has been prolific in writing book chapters, papers and presentations at conferences nationally and internationally. He will be applying for tenure and promotion next year.
The Professor of the Week recognition is coordinated by Faculty Senate, the president's office, K-State Athletics and the Division of Communications and Marketing. Recipients are faculty members selected by Faculty Senate caucuses. Those selected are provided tickets to a men's home basketball game of their choosing and are recognized during halftime. This is just a small token of appreciation for those who teach at K-State.
Schwartz was recognized at the March 9 home game.