January 16, 2019
Talent Acquisition offers specialized team in recruiting executive-level talent
Submitted by Human Capital Services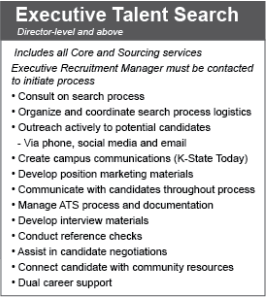 Human Capital Services is strengthening its ability to find leadership talent through Executive Talent Search, or ETS, an internal team of Talent Acquisition employees. The team recently hired a recruitment executive manager who prioritizes executive-level searches.
K-State's Executive Talent Search is committed to providing executive-level search services that effectively identify and recruit highly talented, diverse leaders to the university. The internal team has attracted outstanding talent since 2017 and provides this service for significant cost savings over an external firm.
The team aided in the recruitment and selection of recent executive-level positions, such as chief information officer, chief diversity and inclusion officer, and dean of the College of Arts and Sciences and Global Campus.
Executive Talent Search is your internal partner dedicated to K-State and the promotion of the university as an employer of choice. ETS conducts searches for administrative, director-level and above; academic officer; and other executive level positions including academic department heads. ETS offers full-service support to include developing a targeted search strategy, candidate outreach, building diverse talent pools, and coordinating search logistics.
For more information, visit the Executive Talent Search webpage.