December 19, 2018
Great Plains Grazing webinar highlights research-based agriculture science curriculum for K-12 education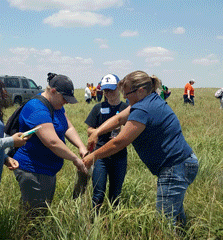 Teachers in K-12 classrooms now have more tools to help them educate students about the impact agriculture has in everyday lives. Great Plains Grazing will present a free webinar to introduce educators and others to the program, Authentic Research Experiences for Teachers, or ARET.
Heather Shaffery, research associate and science content specialist for the K20 Center for Community and Educational Renewal at the University of Oklahoma, will present, "Impacts of Authentic Research Experience for Teachers (ARET) on Agricultural Education" at 1 p.m. Central Standard Time on Thursday, Dec. 20. Webinar participants will learn about the goals and outcomes of the ARET model for training K-12 educators in agricultural science.
In K-12 education, agricultural studies are generally restricted to traditional programs such as 4-H and FFA, and are often absent in urban settings. As a result, students may lack a fundamental understanding of the impact of agriculture on their lives. However, moving agriculture into general K-12 curriculum requires knowledgeable science educators. Teachers have not traditionally received professional development in agricultural studies; therefore, many lack the experience and knowledge necessary to effectively add the content into their classrooms. In addition, recent changes in research-based science instruction mean teachers need access to ongoing professional development around new practices.

Providing teachers with resources and developing their self-efficacy and capacity for agricultural sciences and modern science instruction will ultimately help students learn about agriculture in social and scientific contexts. Authentic Research Experiences for Teachers offers a rich professional development opportunity to target teachers' content knowledge and practice. ARET has been a successful model for training Oklahoma middle and high school science teachers to incorporate agricultural science into research-based lessons and experiences for their students.
Shaffery's primary focus is connecting K-12 teachers with practicing scientists through professional development. She is a former middle school science teacher and currently teaches undergraduate classes on inquiry-based science instruction for pre-service teachers. She earned a master's degree in ecology and evolution from the University of Pittsburgh and is a science education doctoral candidate at the University of Oklahoma.

This webinar is part of a regular series hosted by Great Plains Grazing, a U.S. Department of Agriculture-Agriculture and Food Research Initiative-Coordinated Agricultural Project, or USDA-AFRI-CAP, grant. The webinars aim to provide research-based information, and are targeted for producers and extension agents. Previous webinars are archived and available for viewing on the Great Plains Grazing website.

Interested individuals can register for the free webinar online.