December 5, 2018
Psi Chi fundraiser at Pie Five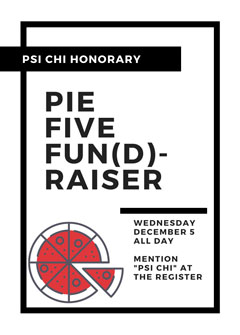 The K-State chapter of Psi Chi will host a fundraiser on Wednesday, Dec. 5, at Pie Five. The event will run all day.
Please mention "Psi Chi" at the register. Proceeds will go to K-State's chapter of Psi Chi.
Psi Chi, the International Honor Society in Psychology, was founded with a mission to encourage excellence in scholarship and advance the science of psychology.