November 29, 2018
Steve Stockham receives Lifetime Achievement Award from American Society for Veterinary Clinical Pathology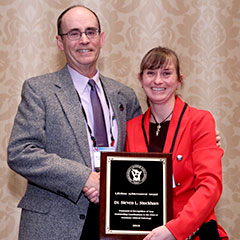 Steve Stockham, professor emeritus of veterinary clinical pathology in the College of Veterinary Medicine, has been selected for a 2018 Lifetime Achievement Award from the American Society for Veterinary Clinical Pathology, or ASVCP.
The award is in recognition of Stockham's 40-year national and international contributions to the profession of veterinary clinical pathology as a teacher, scholar, leader and mentor, especially recognized is his co-author contributions to the highly respective textbook, "Fundamentals of Veterinary Clinical Pathology." The award was presented at the society's annual meeting Nov. 5 in Washington, D.C. Several past K-State clinical pathologists trained by Stockham attended the ceremony.
Melinda Wilkerson, adjunct professor in the diagnostic medicine/pathobiology department and current chair of pathobiology at St. George's University in Grenada, nominated Stockham for the award.
"I have known Dr. Steve Stockham since 1986, when I was a sophomore veterinary student and he was assistant professor at the College of Veterinary Medicine at the University of Missouri-Columbia (MU)," Wilkerson said. "Steve was a committee member for my Master of Science training at MU. Dr. Stockham mentored me and facilitated an opportunity for me to present my Master of Science studies on afibrinogenemia, to the annual meeting of the ASVCP in Kansas City in 1988. I was fortunate to be a part of the process of recruiting Steve Stockham to Kansas State University in 2001, for I personally benefited from his mentoring and successfully passed the AVCP board exam in clinical pathology in 2003."
Wilkerson noted there were 10 current and former K-Staters at the ASCVP award ceremony to show their support, including Balaz Szladovits, Brad Galgut, Mehrdad Ameri, Rachael Holicky, Adi Wasserkrug Naor, Mark Morton and Yvonne Wikander.
"Dr. Stockham is an exceptional man, mentor, educator, and clinical pathologist who inspires everyone around him, including pathologists, veterinarians, technicians, residents, interns, and students, to be the best they can be," said Mandy Meindel, clinical pathologist for Covance Laboratories Inc., Madison, Wisconsin, and a clinical pathology resident who trained under Stockham's guidance. "Despite his countless achievements, he will continue to be an inspiration and guiding influence in veterinary clinical pathology."
Stockham earned a bachelor's degree in 1970 and a Doctor of Veterinary Medicine in 1972, both from Kansas State University. He then earned a master's degree in pathology from Michigan State University. He is a diplomate of the American College of Veterinary Pathologists, an honorary member of the European College of Veterinary Clinical Pathology, and was elected to the "Hall of Fame" of the European Society of Veterinary Clinical Pathology in 2013. He has been a faculty member at Kansas State University for 14 years during which he has been actively engaged in teaching, diagnostic service, research and institutional service. Throughout his academic career, Stockham has been involved in teaching in many ways including veterinary and graduate student instruction, resident training, curricular changes and faculty development.
Overall Stockham has 38 years of teaching experience in the veterinary curriculum, with 31 years as a primary instructor and course coordinator. Most of his classroom teaching has been in veterinary clinical pathology courses in which he uses a combination of lectures, case-based discussions and on-line microscopy methods to engage students and promote learning. His instructional activities have led him to receive 25 teaching awards during the past 28 years, such as the prestigious Norden/Pfizer Distinguished Teaching Awards in 1987, 1998, 2012 and 2016; the Bayer Animal Health Teaching Excellence Award in 2005, 2009 and 2013; and the William T. Kemper Fellowship for Excellence in Teaching in 1994. Stockham received the 2015 ACVP Educator Award, and in 2016, the American Association of Veterinary Medical Colleges presented him with its Distinguished Teaching Award in Academic Veterinary Medicine. Stockham retired in 2016 after 15 years of service to K-State.