November 28, 2018
K-State Confucius Institute to host traditional-style Chinese thread-bound bookmaking workshop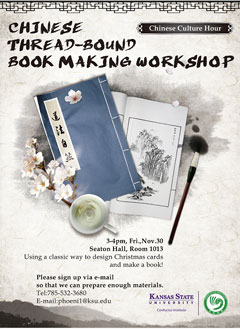 The K-State Confucius Institute will host Chinese Culture Hour from 3-4 p.m. Friday, Nov. 30, in 1013 Seaton Hall.
Learn to make traditional Chinese-style Christmas cards and/or traditional-style Chinese thread-bound book.
The event is free and open to the public. To sign up for the event, contact Fengdi Liu at phoeni1@k-state.edu to ensure adequate supplies.