November 19, 2018
Sabuhi Sardarli recognized as Professor of the Week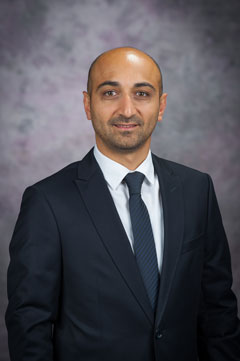 The Professor of the Week recognition is coordinated by Faculty Senate, the president's office, K-State Athletics and the Division of Communications and Marketing. Recipients are faculty members selected by Faculty Senate caucuses. Those selected are provided tickets to a men's home basketball game of their choosing and are recognized during halftime. This is just a small token of appreciation for those who teach at K-State.
Congratulations to Sabuhi Sardarli, the second recipient this year. He was recognized at the Nov. 12. home game.
Sardarli is an assistant professor of finance. Sardarli has had many exceptional comments from his students with multiple statements that he was a "great teacher," "the best I have had at K-State," and that he is an "amazing" and "perfect professor." In preparation for teaching a difficult capstone class in the finance department, Sardarli was proactive in taking formal training on case-based teaching at Harvard University.
Furthermore, Sardarli is a recipient of numerous awards, including the 2017 K-State College of Business Administration Developing Scholar Research Award, the 2016 Outstanding Article Award in the Journal of Financial Research, and the 2015 K-State Mortar Board Senior Honor Society's College of Business Outstanding Faculty.