September 7, 2012
Alumnus to be inducted into the Accounting Hall of Fame today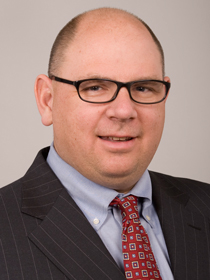 Jackson Day, current partner with Ernst & Young's Americas Professional Practice and alumnus of Kansas State University's College of Business Administration, will be inducted into the Accounting Hall of Fame today at the college's scholarship banquet.
His professional roles have included acting chief accountant for the Securities and Exchange Commission, or SEC, and global director of Capital Markets for Ernst & Young Global. Jackson also worked in the successful implementation of the Sarbanes-Oxley Act, which is the foundation for all public company boards as well as public accounting firms.
Jackson is a former chairman of International Organization of Securities Commission's Standing Committee No. 1 on accounting, auditing and disclosure.
"The major contributions made by Jackson in the private sector as well as the SEC bring new vitality to the College of Business Administration's distinguished alumni base," said Richard Ott, professor of accounting and former head of the department of accounting.
The Accounting Hall of Fame was initiated 13 years ago as a way to recognize accounting alumni's success and community engagement.
"Jack and I share a western Kansas heritage and a passion for golf. But most of all we share a love of Kansas State University and its accounting department," said Dan Deines, professor and interim accounting department head. "Throughout his career he has always updated me on his latest professional endeavors and then returned to campus to share what he had learned. Jack Day has always returned to his roots with offers to help the current crop of seedlings grow."
Inductees are nominated by the college's accounting faculty, and chosen by the accounting's administration. Faculty look for individuals who have had success in their accounting career, are engaged in their community and are good role models for current accounting students. The first Accounting Hall of Fame Inductee was Allen Webber.
"Jackson Day is an outstanding alumnus who has all the qualities of a Hall of Fame inductee," Ott said. "He is a great role model for our students and has reached the top of his profession."