November 6, 2018
K-State engineer Aguilar a plenary speaker at international conference in SE Asia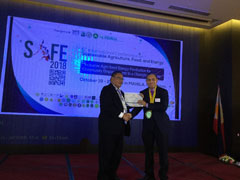 Jonathan Aguilar, assistant professor of biological and agricultural engineering, was a plenary speaker at the International Conference on Sustainable Agriculture, Food, and Energy, or SAFE2018, held Oct. 18-21, in Manila, Philippines. The conference theme was "Inclusive Agri-food Energy Production for Community Empowerment in a Changing Climate."
Aguilar's presentation, "Community Empowerment through Technology Promotion in Water-Stressed Agri-Food-Energy Environment" featured the efforts of K-State Research and Extension and the Kansas Water Office in the creation of water technology farms and how farmers are responding to them to address water issues in the state.
The host institutions were Pampanga State Agricultural University, Philippines Centre for Postharvest and Mechanization, and Central Bicol State University of Agriculture, all based in the Philippines. The past few years, this conference has been held in Indonesia, Vietnam, Sri Lanka and Malaysia. This year it was attended by 370 delegates that came from 20 countries, mostly from Southeast Asia.
An overview of the conference is at safe2018.safetainability.org/.