October 30, 2018
Sociology professor receives alumni award at alma mater
Submitted by Marta Alfonso-Durruty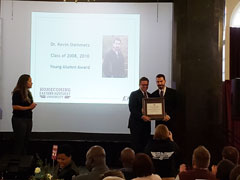 Kevin Steinmetz, associate professor of sociology, received the Young Alumni Award at Eastern Kentucky University.
The award recognizes Steinmetz as a young leading scholar in criminology and an outstanding young role model for current and future Eastern Kentucky University.
Steinmetz's research focuses on technocrime and control, as well as racial inequalities within the criminal justice system. Among other scholarly work, Steinmetz is the author of "Hacked: A Radical Approach to Hacker Culture and Crime" from the NYU Press in 2016, the editor of "Technocrime and Criminological Theory," and the second author of Majid Yar's forthcoming third edition "Cybercrime and Society."