August 31, 2012
Letter from A.D. John Currie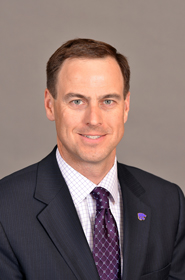 Another fall semester is under way – it's great to see the students back on campus and the buzz they create around town. We've had a busy two weeks, which kicked off with more than 5,000 students in attendance last Sunday at the annual Week of Welcome pep rally at Bill Snyder Family Stadium. Our student body certainly is energized and eager for the 2012-13 year, and we know that student section will be rocking Saturday night as we are nearing 8,000 student passes sold for this football season – a number that has steadily increased since 2009.

Also, Big 12 Commissioner Bob Bowlsby made a trip to Manhattan last Friday to visit campus and meet with many university and athletic staff members and personnel, and our 21st-ranked volleyball team opened its season with a three-game sweep at the Varney's Invitational in front of terrific crowds at Ahearn Field House. As we head into another busy weekend with our football, volleyball and cross country teams all in action, here are some additional details from the latest happenings in the department.


No. 21 volleyball opens season 3-0
Coach Fritz and our No. 21 volleyball team got the season rolling last weekend with wins over UC-Irvine, Oakland and Oregon State to take the Varney's Invitational title. I would like to commend our fans in attendance for making the atmosphere at Ahearn electrifying. We averaged almost 1,800 fans for the entire weekend, which included more than 2,700 for the opener Friday night. Good luck to the squad this weekend in Omaha as the Cats face Denver at 3:30 p.m. Friday, Creighton at noon on Saturday and Syracuse at 5:30 p.m. on Saturday.
Football season is here
The K-State Nation is excited and eager for the start of football season and we look forward to a packed house Saturday night when Missouri State visits Bill Snyder Family Stadium. I know our players are excited to run down the tunnel from the locker room to the roar of our fans on Saturday. As much as we are excited about the progress our football program has made under Coach Snyder's leadership, I am even more impressed each year with how our players grow as young people and students. In fact, when the team takes the field on Saturday we will have 11 total football players who will have already earned their degrees from K-State and are currently working on master's degrees. We certainly are proud of their commitment to being a world-class student athlete.
As we have mentioned, fans attending football games this fall will be able to watch the West Stadium Center project evolve each week – every time you come to the stadium, it will look different. I had a chance to provide a tour of the construction progress to our local and regional media contingent on Tuesday following Coach Snyder's weekly press conference.
Click here for a recap of that tour
and
here for our gameday construction guide
and
fan guide
that will provide more details on the changes around the stadium and accommodations we are making to ensure that your game-day experience is as smooth as possible. Also, remember to allow for extra time when heading to the stadium, especially those traveling from the west on K-18.
Click here for the latest traffic and road construction information
around town, and please drive carefully on your way to the stadium.
And for those who cannot make it to Manhattan on Saturday, be sure to watch the game live on K-StateHD.TV -
click here for information
on how to access the broadcast. We are excited to produce and package one of our home non-conference games on our No. 1-ranked high-definition network.
2013 and 2014 football schedules complete
With the addition of Southland Conference member Stephen F. Austin to the 2014 football slate, we now have finalized schedules for both the 2013 and 2014 seasons. All six nonconference games over the next two seasons will be played at Bill Snyder Family Stadium with North Dakota State, Louisiana and new FBS member UMass on the docket in 2013. The 2014 season will see the Auburn Tigers make their return trip to Manhattan, while FBS member Texas-San Antonio and Stephen F. Austin round out the nonconference portion of our schedule.
Click here for a list
of our full future football schedules.
Football ticket update
With just a few days remaining until the football season opener, ticket sales continue to progress at record pace as four of our seven home games (Missouri State, North Texas, KU and Oklahoma State) are already sold out. Thanks to all of K-State Nation for supporting our student-athletes and we are one step closer to having Bill Snyder Family Stadium packed with purple for all seven home games. A very limited number of tickets remain for the Miami, Texas Tech and Texas games, so we encourage fans to act now. Next weekend will provide our university another unique opportunity as the nation will be tuning in to our game against Miami. So, let's make sure that Bill Snyder Family Stadium is rocking and packed with purple.
Click here for more information
or to buy your tickets now.
Alumni Invited to Pregame Events at TCU and West Virginia Football Games

In a year that has seen us welcome two terrific institutions into our league, our fans will have the opportunity to visit both Morgantown and Fort Worth this season. The K-State Alumni Association, No. 1 in the Big 12 in percentage of graduates who are members for the 16th straight year, is sponsoring pregame events at each destination this fall for fans attending each game featuring a buffet, drinks and more. Reservations are required.
Click here for pregame information
. And,
become a member of the Alumni Association today
! The West Virginia game is scheduled for October 20 and the TCU game is on November 10.
The impact of your support
In addition to now having more than $100 million in athletic facility improvements under way, your contribution and ticket dollars are being invested in programmatic improvements including recruiting, academic counseling and sports medicine. We have also made a commitment to hiring and retaining great people and ensuring that we offer competitive compensation relative to our peers. As I mentioned in a previous letter we have been able to increase the salary pool for our nine assistant football coaches by 20 percent this year, moving our total aggregate into the middle range in our league. Also, earlier this summer the Kansas State Athletics Board unanimously approved my recommendation for a $250,000 increase to Coach Snyder's annual compensation, raising his annual total to $2.2 million. Over my time here in Manhattan, Coach Snyder has never asked me for any increase for himself – he is always focused on improving the program and developing the team. However, President Schulz and I felt it was important to recognize his tremendous leadership of the program and K-State's commitment to excellence in football. Coach Snyder's long-term contract rolls over and adds a fifth year each season.
Our commitment to fiscal responsibility and careful decision making continues. At the same time we look for opportunities for strategic investments to make K-State better, for the long-term, and achieve our vision of a Model Intercollegiate Athletic Program.
That will do it for today. Again, good luck to our student athletes and teams this weekend, including Coach Smith's cross country teams as they open the season Saturday in Wichita. Thanks as always for everything you do to support K-State. We'll see you this weekend at Bill Snyder Family Stadium.
Go Cats!

John Currie